Hiking
Sport, Action
Summer skiing
Children
Atmosphere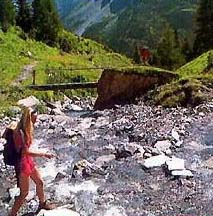 The Tux board of tourism maintains 250 km of marked hiking trails. Use the Eggalmbahn (summit at 2000 m), the Ziller Valley Glacier lift (Sommerbergalm at 2100 m and Tuxer-Ferner-Haus at 2660 m), and our "Hiking Taxi" (Stoankasern 1984 m, Vallruckalm 2132 m and Nasse-Tux-Alm 1843 m) to access a broad range of hiking trails up above tree line and admire an unlimited vista that stretches as far as the eye can see. Four times a week our hiking guides will explore the Tux mountain range with you: the mythical Tor lake, the Grübelspitze or the Frauenwand.
Stop for a break and a snack at one of the pleasant, inviting alpine huts or lodges. Or try one of our interesting theme hikes: alm trail, waterfall trail, alpine rose trail, stone pine trail, moor discovery trail.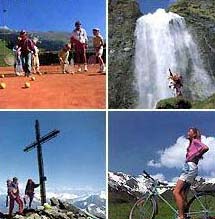 Mountain and rock climbing:
Climb the Olperer (3476 m) and the Kalkwand wall, or cross icy crevasses at the Hintertux Glacier with the Bergsportschule's expert mountaineers.
Adventure club:
Have fun trying out canyoning through gorges, the climbing trail, cave trekking or tandem paragliding at the new Tuxertal Adventure Club.
Tennis:
The Tux Sports Center provides three indoor and six outdoor courts for your tennis playing pleasure.
In addition, we offer mountain biking, miniature golf, a shooting range, bowling alleys and squash courts.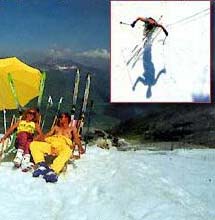 Skiing, snowboarding and carving are especially tempting in the spring sun. Not only because of the prices, but also because of the luxury of being able to enjoy the outdoors on crystal white powder in mild temperatures.

Even in the middle of summer, you can cruise down 20 km of varied slopes on the Hintertux Glacier. The longest run is over 2 km long and ends at the large Tuxer-Ferner-Haus sun terrace.

The half pipe is groomed all year round.
Kostenloser Transfer zwischen Hintertux und Vorderlanersbach von Juli bis Oktober. Wanderer freuen sich über interessante Rundtouren und Schifahrer nutzen den Zubringer zum Hintertuxer Gletscher.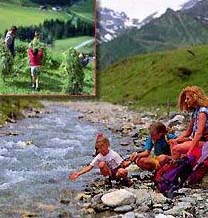 From July to August
there is a great kids' program every day:
tennis
climbing for children
mineral hunts
hikes on the glacier
skiing or snowboarding
a colorful children's festival
tandem-paragliding
hikes
visits to the Tux mill and much more
Our young hikers (10 years and under) can use the lifts free of charge.
Unique atmosphere...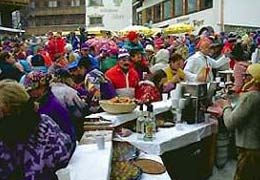 Open air concerts, plays, slide shows, village and mountain meadow festivals, afternoons at the lodges, Tyrolean evenings, pleasant evenings of dancing, and discotheques all contribute to the unique atmosphere.
Sports and cultural highlights including the Tux Triathlon, Time Travel, a celebration of mass on the Hoarbergjoch, and much more are all part of the Tux cultural summer.
Event tip: You won't want to miss the traditional Hintertux Oktoberfest, when the cattle are driven down from the alpine pastures at Bichlalm and the sheep are shorn. On the last weekend in September, there is a farmers' market as well as celebrating and dancing in the party tent.